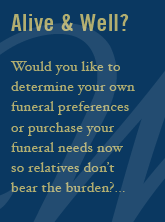 Personalization
Wilbert offers multiple ways to personalize a burial vault or urn vault with words, symbols, and images that speak of a singular spirit. Your loved one had a unique personality. The selections you make for the visitation and service should communicate that singular spirit. These choices ensure your loved one's memory is remembered for generations to come.
In 1934, Amos and Albert West founded Ohio Vault Works, Inc., originally located in downtown Cleveland, Ohio. A young man by the name of Jerry Prochaska began his career in the burial vault business as a laborer for Amos and Albert West in 1944. At the young age of sixteen, Jerry was the deciding vote in the Union and was let go from his position with Ohio Vault Works as a result.
Following his departure from Ohio Vault Works, Jerry enlisted in the Army and served in World War II. Upon return from the War, Jerry had several jobs, one of which led him back to the burial vault business. With his GI Bill, Jerry opened a dry cleaning company, and Albert West became one of his clients. It was at the dry cleaning company that Mr. West approached Jerry and asked him to take over the operation of his vault company so he could take leave to early retirement. He was unhappy with the way his foreman had been running the manufacturing facility, and from past experience he knew Jerry took great pride in his work and was an excellent leader. Upon the passing of both his parents that previous year, Jerry closed his dry cleaning business and went back to work for Mr. West who granted Jerry the opportunity to purchase ownership in the company via shares of company stock.
Jerry successfully developed Ohio Vault Works into a lucrative burial vault company. In 1969, Jerry had officially turned Ohio Vault Works into a family business by hiring his son, Kirk, into the very same labor position in which he had started his own career. Following the passing of Mr. West and after working together for several years, Jerry and Kirk decided they would travel to Florida to make an offer to Albert West's wife in order to purchase the remaining stock in the company located on the corner of 116th Street and Harvard Avenue in Cleveland. In 1979, Ohio Vault Works was officially a father and son owned business with the purchase having cleared and all the West Family's stock in the company transferring to Jerry and Kirk.
After much sacrifice and hard work, Jerry and Kirk had an opportunity to grow their business in 1989 by purchasing Wilker Vault Company in Lorain. With the purchase came only one customer, but over the next couple years, the Lorain business grew quickly and gained a large part of the market share in Lorain County. Lorain Wilbert Vault Company continues to thrive today.
As this family owned and operated business continued to flourish by providing a quality product and exceptional customer service, another opportunity for growth arose. Kirk had been interested in a substantial sized vault company located in Valley View, Ohio that would offer more space and an increased customer base, at that time known as Cleveland Vault Company. Kirk and John Hornik, the owner of Cleveland Vault, were good friends and met on several occasions to discuss a possible transfer of ownership of Cleveland Vault Company to Ohio Vault. This vision became a reality in December, 1992, when Ohio Vault Works took over their new manufacturing facility located in the heart of Valley View. After renting out their old facility for several years, Kirk and Jerry sold the real estate of their original facility in Cleveland. Ohio Vault Works still maintains its smaller Lorain manufacturing plant, although the more modern building located on Halle Drive is where the majority of the companies' products are manufactured, decorated, and delivered.
In 1996, Ohio Vault Works brought in new family blood, as Tanya Prochaska Early began working in the office. In 1997, the passing of Jerry Prochaska marked a time of sorrow for everyone at Ohio Vault, but the company continued to succeed and grow; we know Jerry would be proud of the way the company has evolved since his passing. Upon graduating college with a degree in Business Administration and a minor in Business Management in 2000, Tanya remained with the company full-time assuming the responsibility of Vice President. Through her visions of product diversification and her placement of increased importance on graveside service, the company diversified into providing expanded services such as Wilbert Way graveside services and individualized personalization options, as well as the diversification of the company to include the manufacturing of mausoleum crypts and providing cremation products and services.
In 2009, a project three years in the making was finally completed; Ohio Vault Works opened their state-of-the-art crematory facility located just down the street from their manufacturing facility on Halle Drive. The building was purchased by Ohio Vault in 2009 and was renovated to offer cremation services for their funeral home customers. The facility includes a beautiful viewing room for small gatherings and viewings for cremation families, cutting-edge cremation equipment and technology, and a continuing education facility for funeral professionals. The building includes a pet crematory as well, expanding the company into the pet memorialization market, yet another exciting first for Ohio Vault. Paws and Remember of Northeast Ohio, the pet division of our company, offers memorialization products, grief support, and cremation services for families experiencing the loss of their beloved pet family members. Michael Early, Ohio Vault's Operations Manager, is responsible for maintaining and helping develop the day-to-day strategy and direction for the cremation facility. Like Jerry and Kirk before him, Mike began his career learning the business from labor to management; his career at the company began in a labor position in May, 2005.